USB Type C Power Delivery
For applications demanding more than the limited functionality available in legacy serial bus implementations, USB 3 brings a major upgrade in terms of speed, power delivery, and flexibility. However, unlocking this powerful new feature set involves much more than just a simple hardware design change: extensive software expertise is now required in order to take full advantage of all that USB 3 has to offer.
Effectively leveraging USB 3 within a product design means having access to a highly experienced development team, one with the right level of expertise in successfully marrying together Type-C hardware, firmware, and application software. Alas, resources with the right kind of breadth and depth of experience are naturally in high-demand, and may well be completely consumed with other aspects of a complex product design.
In collaboration with its customers, ASTC has a long history both of being involved with the development of the USB Power Delivery (USB-PD) specification, and in delivering a range of leading-edge implementations. Engagements span from architecture consulting and semiconductor design, through to complete turnkey USB Type-C implementations, including application software. Markets served include mobile and consumer, automotive, medical, and on into IoT.
WORKING ACROSS THE ENTIRE ECOSYSTEM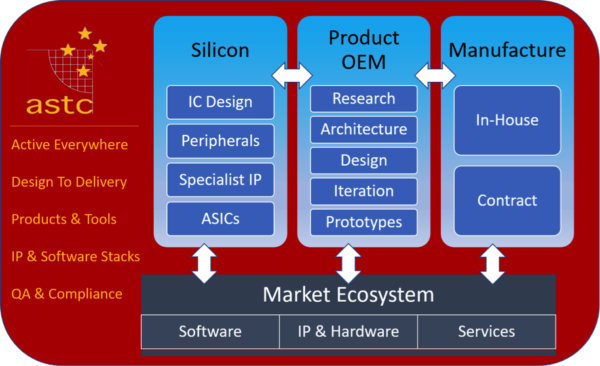 Along with amassing an extensive body of consulting and implementation experience, ASTC has also built a set of re-usable technology assets that can shorten time-to-market for the most challenging customer USB Type C applications. Together, these unique capabilities greatly accelerate the ability of our customers to successfully adopt and exploit the complex, yet powerful, USB-PD protocol.
Whether focussed on designing new Type C implementations in silicon or developing OEM products, there are multiple architectural options to be considered when designing USB 3 based solutions. Core PD functionality is broadly categorized into two main areas – Type C Port Manager (TCPM) and Type C Port Controller (TCPC), grouping software and hardware components respectively. Depending upon the key characteristics required in any given implementation, details of how these Type C hardware and software areas are implemented can have a significant impact on the cost, speed, and flexibility of any resulting solution. ASTC has extensive experience designing and building multiple architectural configurations, and so can steer customers towards the design that will best fit their respective hardware and software requirements.
TYPICAL USB POWER DELIVERY ARCHITECTURE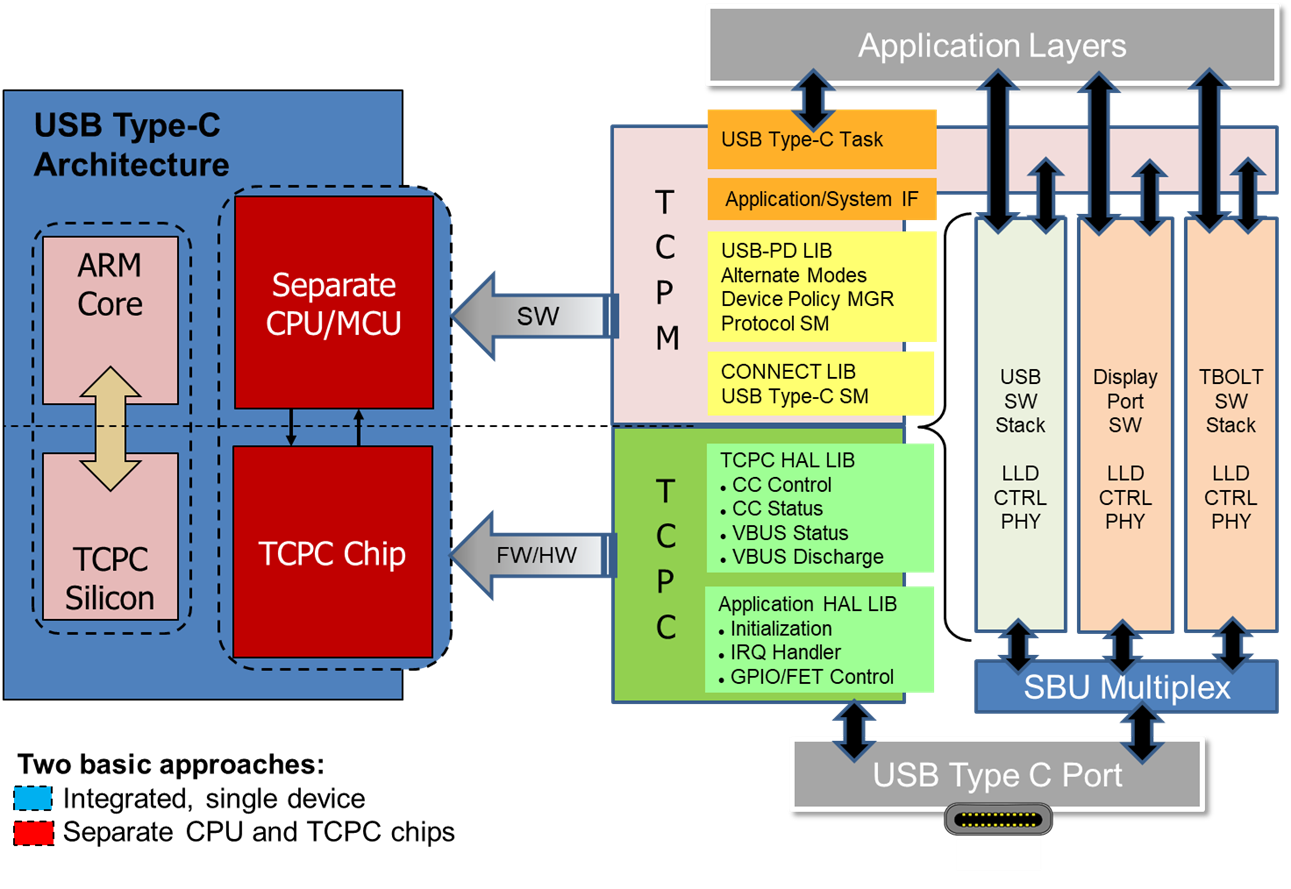 INDUSTRY-LEADING SOLUTIONS
ASTC's wide-ranging capabilities embrace multiple aspects of developing products that leverage USB 3-based designs, including:
CUSTOM USB TYPE-C IMPLEMENTATIONS
Spanning from application layer interfacing through to full turnkey products
Fast porting to new implementations or architectures, single or multi-chip
Dedicated USB-PD devices supported, as well as PHY + firmware designs. Multiple architectural options for where Type-C Port Manager software resides
Design experience with both data- and control-plane applications
Double data rate applications (e.g. two channels of 4k video at 60Hz.)
IC design and verification services, including for mixed signal and low power applications
Experienced in production support for small form-factor implementations, such as connectors and cables
USB POWER DELIVERY SOFTWARE
Pre-built stack supporting all key Power Delivery specification functionality
Standard Type-C Port Controller interface, supporting Linux, Windows, etc.
USB 2.0 and USB 3.0/3.1 compatible
Default power profiles for hardware-only devices
Optional extensions to standard power profiles; power role swapping fully supported
Full support for alternate modes, including connection reassignment
Authentication and security support through public/private key exchange
Support for PD-aware cables and for bare-wire connections
Video connections other than DisplayPort (video protocol conversion)
In-field flash updates supported
Fully tested, supported, and USB-PD compliant
QUALITY AND COMPLIANCE RESOURCES
Extensive test suites and compliance assets available
Custom virtual platforms, enabling rapid application prototyping and development
Verification and compliance services, including support for 3rd party IP V&V