Customer Tailored USB-C and Power Delivery Solutions
ASTC's set of re-usable IP solutions will shorten time-to-market for any new customer USB-C/PD applications.
ASTC's USB-C/PD IP is a self-contained configurable multiport USB Type-C Power Delivery (PD) design library, based on the latest USB Power Delivery specification revision 3.0 and USB Type-C Cable and Connector specification revision 1.3.
In collaboration with its customers, ASTC has extensive experience designing and building multiple architectural configurations, and so can guide customers towards the design that will best fit their end system hardware and software requirements. We have a long history both of being involved with the development of the USB Power Delivery (USB-PD) specifications, and in delivering a range of leading-edge implementations.  Engagements span from architecture consulting and semiconductor design, through to complete turnkey USB-C/PD implementations, including application software.  Markets served include mobile and consumer, automotive, medical and IoT.
ASTC can provide a comprehensive, flexible, configurable, extendible USB-C/PD IP solution tailored to customers' exact requirements, complete with AFE, digital, and FW IP components and complete IP integration.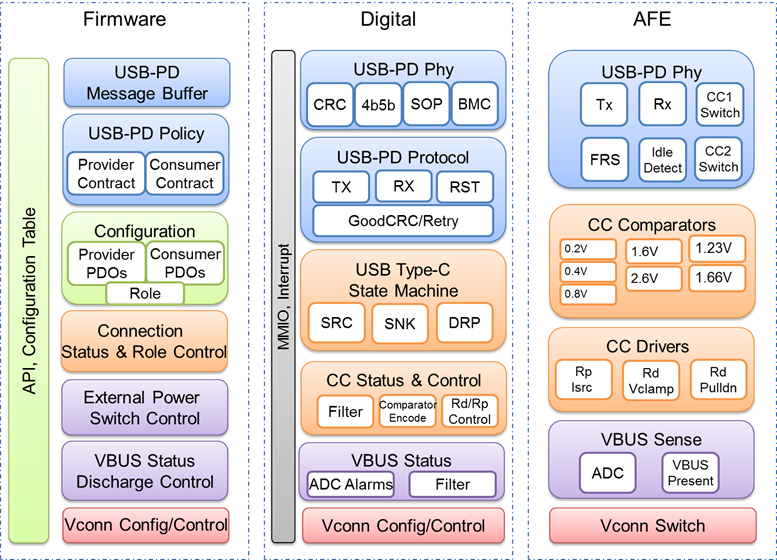 ASTC USB-C/PD Sink/Source/DRP Functional Block Diagram
Need Firmware or Integration Services for third party USB-C/PD ICs?
Why ASTC?
ASTC can support your USB-C/PD design and enablement success with:
Off-the-shelf software assets and design IP to accelerate delivery and reduce project risk
Deep technology expertise, including involvement in USB-PD specification process: avoid the painful learning curve
Proven experience designing, delivering, and qualifying volume products, which means we know how and where to help
Test and qualification suites that ensure quality is engineered-in, and not retrofitted after product ships
Flexible engagement model focused only your success
Read more about our unique range of products and services supporting USB-C/PD product development, or contact us for more information.